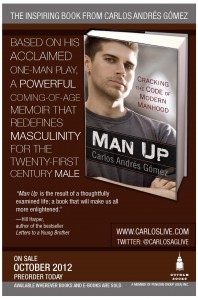 My book "Man Up: Cracking the Code of Modern Manhood" has finally been released.  
And now the fun part – I get to come to YOU for the book tour and bring this entire project to life through performance, discussion, and celebration.  All the shows are free to attend.
My final NYC book event is tomorrow night in Manhattan
:
Thursday, Oct. 4th at 6pm at La Casa Azul  (143 E. 103rd Street, New York, NY 10029)

If you don't already have "Man Up," the book is available right now through Barnes & Noble, Amazon, Books A Million, Indiebound, Penguin, and iTunes
(this first week's sales are very important…so if you plan to get it, doing it now helps me most!)
In addition to NYC, I will be visiting Providence, Boston, Philadelphia, Washington DC, Miami, Atlanta, Chicago, Naperville, San Francisco, Santa Rosa, & Seattle!
(PROVIDENCE) Friday, Oct. 5th at 7pm at Books on the Square  (471 Angell Street, Providence, RI)
(BOSTON) Saturday, Oct. 6th at 10:45am at Innovation Summit (Harvard University, 2 Divinity Ave., Cambridge, MA 02138) 
***This event is the only one that is NOT free.  You can register for this amazing conference by clicking the "Innovation Summit" hyperlink.  If you sign up and register for my afternoon workshop, you receive a FREE copy of "Man Up."
(MIAMI) Tuesday, Oct. 9th at 8pm at Books & Books (265 Aragon Ave, Coral Gables, FL)
(CHICAGO) Friday, Oct. 12th at 7pm at Lake Forest Books (680 N. Western Avenue, Lake Forest, IL 60045)
(SAN FRANCISCO) Monday, Oct. 15th at 7pm at Book Passage (51 Tamal Vista Blvd, Corte Madera, CA 94925)
(SEATTLE) Thursday, Oct. 18th at 7pm at Elliot Bay (1521 Tenth Avenue, Seattle, WA)
(PHILADELPHIA) Saturday, Oct. 27th at 5:30pm at Penn Bookstore (3601 Walnut Street, Philadelphia, PA)
(WASHINGTON DC) Wednesday, Nov. 7th at 6:30pm at Busboys and Poets (14th & V, Washington, DC)
Save the date in your calendar and tell a friend!
If you don't see your city or town on this list, please be sure to request that "Man Up" be carried at your local school, library, or bookstore.  Just send an email to whoever is in charge with a link to THIS PAGE and say, "Uh, excuse me.  We NEED this book!"
If you or someone you know is interested in an interview or feature about me or the book, please contact my book publicist, Beth Parker:
We're filling in press as I go, so don't be shy!
Once again, huge heartfelt thanks for the love and support along this journey.  And I hope to see your smile and share a handshake or a hug very soon.
Much love,
Carlos